Have you ever wondered how To Restore Memory Foam Pillow? You know, that pillow that has helped you sleep for many nights?
You've come to the right place. We're exploring how to get your memory foam pillow back to how it used to be.
Memory foam pillows are like a cloud on your head but can lose their softness and support over time. So, how can you keep your favorite pillow as comfortable as ever? We're here to find out more about that.
This guide will answer all your questions and explain how to make your memory foam pillow feel new again. Think of it as a spa day for your favorite pillow. We'll talk about why, how, and what you should do to take care of your memory foam pillow so you can keep it in great shape.
So, are you ready to discover the secrets of restoring a memory foam pillow?
The process is quite simple. To do this, you don't need to spend money to buy any expensive tools. With a few simple steps, you can restore pillow.
In this guide, we are going to share how to memory foam pillow . So, without further due, let's get started.
Why Do Restore Memory Foam Pillow?
It's important to restore memory foam pillows because it keeps them comfortable. It makes them last longer.
Over time, these pillows can lose their fluffiness and ease. When you put them back together, they return to their standard shape, so you sleep better. It's like fluffing up a pillow for your head.
It will also save you money because you won't have to buy as many new pillows. Cleaning your pillow removes dust and other things that might make you itch.
It's like giving your pillow a bath to keep it clean. Also, it's good for the environment because you won't always throw pillows away.
So, restoring your memory foam pillow is an innovative and simple way to ensure it stays comfy and supports your sleep.
8 Simple Steps to Restore Your Memory Foam Pillow
Memory foam pillows are very soft and popular because they are so comfortable and supportive. It helps you get a good night's sleep.
However, like all good things, they need maintenance to keep them in top shape. Because your head and body weight press down on these pillows every night. They can lose their loft and support over time.
The good news is that restoring your memory foam pillow is easy and can give it new life. Here are eight easy steps to restore your memory foam pillow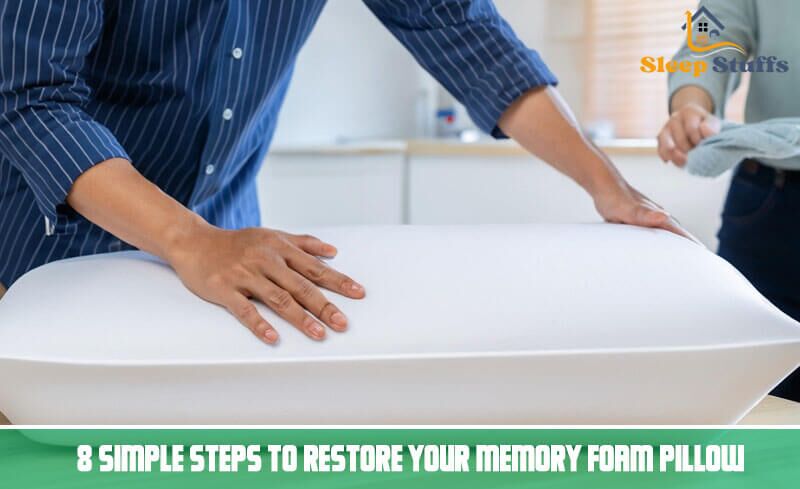 Step 1: Remove the Pillowcase
The first step in restoring your memory foam pillow is removing its pillowcase. Over time, sweat, dust, and oils can build up on pillowcases. Removing them lets your pillow breathe and get a thorough cleaning. When you wash the pillowcase, make sure to follow the care rules that are written on it.
Step 2: Fluffing Your Memory Foam Pillow
Memory foam pillows are made to mold to the shape of your head and neck, giving you the proper support. But, over time, they can lose some of their loft. When you fluff your pillow, it's like waking it up a little. Press on it and shake it a few times to help move the foam around and return it to its original shape. This step is essential if you want the pillow to keep its original condition and support.
Step 3: Washing Your Memory Foam Pillow
Cleaning your memory foam pillow is a crucial part of the restoration process. Pillows can gather dust, sweat, and germs, affecting how well you sleep and how clean you are generally..
Here's how to clean your memory foam pillow:
Fill a bathtub or a large basin with lukewarm water.
Add a small amount of mild, fragrance-free detergent. Avoid using harsh chemicals or bleach.
Press the memory foam pillow into the soapy water so the soap can enter
Rinse the pillow well with clean water until no more soap is on it
squeeze out any extra water without squeezing or turning, which could hurt the foam.
Important Note: Never put your memory foam pillow in a washing machine, as the agitation can harm the foam.
Step 4: Drying Your Memory Foam Pillow
After cleaning, ensuring your memory foam pillow dries thoroughly is crucial. Here's how to do it:
Lay your memory foam pillow flat on a clean, dry towel.
Press another clean, dry towel on the pillow to absorb excess moisture.
Allow your pillow to air dry in a well-ventilated area. Avoid direct sunlight or heat sources, as they can cause the foam to deteriorate.
Ensure your pillow is completely dry before moving on to the next step. Damp pillows can lead to mold and unpleasant odors.
Step 5: Reshaping Your Memory Foam Pillow
After your memory foam pillow is completely dry, you should help it return to its original shape. Gently pat it down and press on it to ensure the foam is spread.
Step 6: Use a Dryer
If your pillow still feels somewhat flat after reshaping, you can give it an extra boost with a dryer. Here's how to do it:
Place your memory foam pillow in the dryer on the lowest heat setting.
Add a couple of clean tennis balls or dryer balls to the dryer. These balls will help fluff up the pillow as it dries.
Let the pillow air dry for 15–20 minutes. Check on it often to make sure it doesn't get too hot.
Using a dryer is like sending your pillow to a small spa where it gets a warm massage and comes out puffed up and ready to go.
Step 7: Use a Memory Foam Pillow Protector
A memory foam pillow protector is like a shield for your pillow. It helps keep it clean and protected from spills, stains, and allergens. Slip it over your pillow, which will act as a barrier to keep your memory foam clean and fresh. Pillow protectors are machine washable, making them easy to clean and maintain.
Step 8: Avoid Direct Sunlight and Heat
Your memory foam pillow is a lovely, shady spot, as you wouldn't want to stay in the hot sun all day.
Avoid exposing it to direct sunlight or heat sources, such as heaters and radiators. When memory foam is exposed to heat for a long time, it can break down. It can shorten the life of your pillow.
When Do We Need To Restore The Pillow?
Do you know-how to revive memory foam pillow or how to restore memory foam mattress? To get better comfort restoration is a must. But, you have to understand when you need to restore pillow. Otherwise, it can cause more harm than good.
Let's see some signs that indicate you need to restore the memory foam pillow:
1. Noticed a dip in the center
If you have noticed a dip in the center, it is time to restore pillow. The foam will lose its shape. Moreover, comfort over time. Keep in mind that the dip gets deeper over time.
2. Odor
It is important to pay attention to smell. If the pillow has an unpleasant smell, it is a sign of decaying foam. That's why it is important to restore the pillow in this case.
3. Allergy
Sometimes, the foam can accumulate allergens. There are 10-20% of people who get allergies due to foam. If you cannot sleep on the pillow, it is time to restore it.
So, these three are the signs that indicate when to restore the pillow. If any of them match with you, then you have to restore it.
Restore Memory Foam Pillow-Frequently Answer Questions(FAQs)
Why Is my Memory Foam Pillow so Flat?
Due to the natural compression, it may flatten over time. But there's no need to worry. Memory foam pillows can be easily restored. You can push and knead the pillow to help restore its shape. You can also store the pillow in a cool, dry place. It prevents it from becoming soggy.
Can Memory Foam Be Restored?
Actually, it depends on the quality of the foam. If the quality of the foam is good, then restoration is possible. In addition, lifespan does matter. The average lifespan of foam is 5 to 6 years. After this time, memory foam can become too brittle to restore properly.
Why is My Memory Foam Pillow so Flat?
Moisture is the chief reason in this regard. Sometimes, your pillow may become lumpy or flat. The reason can be an accumulation of dust, body oils, and sweat. This can lead to a decrease in its loft and support. In this sense, you will have to clean the pillow in order to restore it.
Do Memory Foam Pillows Wear out?
Most memory foam pillows will last between one and three years. Normally, pillow life is dependent on the frequency of use. In addition, it depends on how well it is cared for. Every two months, you should rotate your pillow. Rotate from top to bottom and fluff it up. This helps ensure even wear.
Final Verdict – Restore Memory Foam Pillow
Simple care can expand the lifespan. To save money, you should take care of your pillows and mattress. Foam materials are usually easy to maintain and restore. You may be able to clean the surface very easily. Just follow our above-mentioned procedure.
If the conditions are not too bad then you can add extra foam. On the other hand, if the situation is worse, better to replace it. Depends on the situation. Try to take help from professionals during replacing the foam.
Lastly, I want to say again, "Always take care of your pillows". So, guys, if you have any questions, feel free to contact us. You can leave a comment below the post. Thank You.